Russians Ship Another Batch of Stolen Ukrainian Grain From Mariupol Port
The Russians have again loaded grain stolen from Ukrainian farmers onto a Russian ship in the Mariupol seaport.
Petro Andriuschenko, an adviser to the mayor of Mariupol, announced this in a statement, the CFTS portal reports.
"Another 2,000 tons of grain have been stolen through the sea," he said.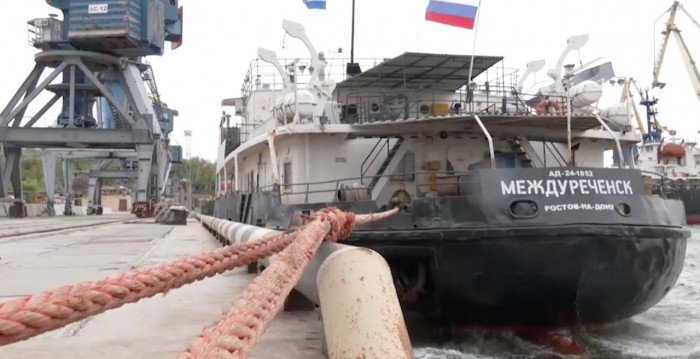 The Mezhdurechensk ship left the Mariupol seaport on 21 May.
"This time, [the ship left for] Rostov-on-Don. Russia is expected to fulfill its part of the grain deal with our grain," he said.
As reported previously, the Russians loaded 3,500 tons of stolen Ukrainian grain onto a ship in the Mariupol seaport in early May. The loading of the ship took about one week, which indicated that the port's operating efficiency is low.
Andriuschenko wrote on 11 May that the vessel that the Russian occupiers used to transport the first batch of stolen grain from Mariupol had been identified. According to him, they used the Mezhdurechensk vessel, which is a river/sea vessel built in 1966. Its home port is Rostov-on-Don. The ship left its home port on 29 April and returned to Rostov from Mariupol with the grain on 8 May.
As the CFTS portal reported, Russia plans to turn Mariupol into a major logistics hub for exporting grain from the temporarily occupied territories in the Donetsk and Zaporizhia regions. For this, it is demolishing the railway station and rebuilding the seaport. "If they succeed in implementing their plans, they will be able to use it to export grain from the occupied territories in the Donetsk region and Zaporizhia," Andriuschenko said in April.
As reported earlier, the Russians have illegally added the ports of Mariupol and Berdiansk to the Russian Register of Seaports and begun the process of adding a section of the navigable waterways in the Kherson region to the "List of Internal Waterways of the Russian Federation."
The CFTS portal further reported that the Russians are exporting ore from temporarily occupied Ukrainian territories through the Mariupol seaport.