Ukraine Asks Lebanon to Prevent Syrian Ship Carrying Stolen Ukrainian Grain From Entering Its Ports
The vessel is carrying corn that Russians stole from granaries in the Zaporizhia, Mykolaiv, and Kherson regions.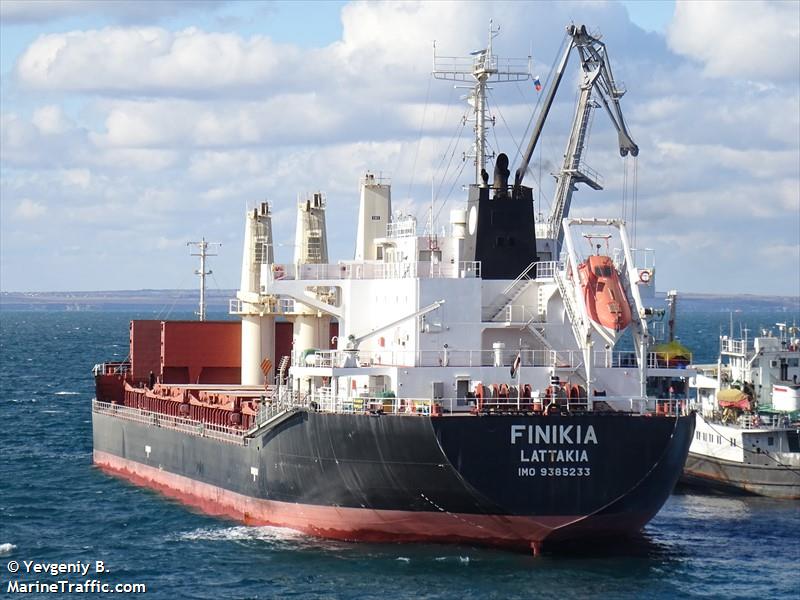 The Ukrainian embassy in Lebanon appealed to the Lebanese authorities on 24 August to prevent the Finikia cargo ship—which is owned by the Syrian government's transport agency and is carrying Ukrainian grain stolen by Russians—from docking in the Lebanese port of Tripoli.
The Ukrainian embassy said that the Finikia cargo ship was carrying 6,000 tons of grain from the port of Sevastopol and that the grain was transported to the port of Sevastopol from temporarily occupied Ukrainian territories, the CFTS portal reports, citing the Reuters news agency.
In a note to the Lebanese ministries of transport, finance, and economy, as well as the customs directorate, the Ukrainian embassy said the corn had been "stolen from storage units in the Zaporizhia, Mykolaiv, and Kherson regions," Reuters wrote.
According to Reuters, the embassy said the ship was "in violation of international law" and expressed its hope that Lebanon will "not allow the entry of the aforementioned Finikia cargo ship to Lebanese ports to sell stolen Ukrainian grain."
According to Western journalists, this is not the first time that Ukraine has warned Lebanon about a cargo of stolen grain and not the first time such an operation has been linked to Syria. The Syrian government works closely with Russia, and several ships suspected of carrying stolen Ukrainian grain regularly turned off their AIS near Syrian territorial waters last year.
According to data from the vessel traffic tracking service MarineTraffic and a source in the port of Tripoli, the vessel did not dock at the port of Tripoli on 24 August. As of 15:00 on 25 August, the Finikia had transmitted no information about its location for two days.